28+5 Zero Waste Christmas Gift Ideas
Surprise your loved ones with gifts that help tackling the waste problem! Your eco warrior mates will surely love them, and these beautiful, stylish products will make it effortless to become a zero waste advocate for those who are not already familiar!
  1. Homemade delicacies in a jar
If you have a cookie recipie that every friend is asking for, you have the perfect edible gift in your hand. Just make a big batch, portion into jars with clamp lids, tie a bow with an all-natural hemp cord, add a pinecone, and give them to your loved ones!
Other delicious treats include palm oil free versions of chocolate-hazelnut spread, granola for friends who always skip breakfast due to rushing out the door every morning, or granola bars in a Cibi Reusable Snack Bag. Alternatively you can make BBQ sauce, chutney, cordial, or eggnog too!
2. Chufa Mix Veggie Drinks Maker
For vegan friends, or those who have diary allergies, buy a Chufa mix, that they can use to make their own plant based nutmilks package free.
3. Sprouter with seeds
For health enthusiasts, buy a seed sprouter with seeds! It can save tons of plastic waste if they regularly eat sprouts! It is excellent for families with children, as it is exciting to watch the seeds grow  every day.
4. Cibi reusable food wrappers and snack bags
The reusable Cibi products are designed to make your to go lunches, snacks and leftovers in the fridge zero waste. The Cibi Sandwich Wrap is excellent for packing a lunch for your kids, and the Cibi Snack Bag is for smaller pieces: nuts, seeds, dried and fresh fruit, cookies and crackers. Parents can save a lot of money and waste if they have these at hand when children get hungry on the go. In the fridge we recommend using the Cibibee Beeswax Wraps for foods like cheese, salami, leftovers of veggies and fruits and covering dishes.
5. Washable bowl cover
With the dish cover of The Sorting Bags, there's no need for foil to cover bowls in the fridge!
6. Airtight jars for buying in bulk, food storage, organization and more
For an instant kitchen or pantry upgrade, buy some airthigh jars and make clear labels for them. Your friends will love the minimalist look!
7. Old Blue Recyled pot holders and oven mitts
A potholder or oven mitt made of recycled jeans will be useful in any kitchen, and it can save valuable fabrics from the landfill.
8. Old Blue recycled denim place mat
For families with small kids, buy place mats, so they won't have to wash the whole cover every time the kids spill something. Washing only the soiled mat saves time and energy, and stains don't matter so much on the dark fabric anyway.
9. Guest slippers from old jeans
For friends who recently moved into a new home, it is a great housewarming present to give guest slippers from recycled denim. It will always come handy when they have friends and family over.
10. Rolser Shopping Trolley from recycled fabric
For friends who love the farmers market and are car-free, a shopping trolley is a must have! The Rolser is a high-quality Spanish brand, with various designs and colors, including a model from recycled materials.
11. Cloth napkins and handkerchiefs
From classic, minimalist design, to delightful, modern patterns there's a cloth handkerchief and napkin for everyone! BlessYou even has a special Christmas Edition! Create a new Christmas tradition by giving holiday themed napkins for families that they can use every year.
12. Water bottle
Equa bottles are free from endocrine disrupting chemicals like BPA and BPS (the latter is frequently used in BPA-free bottles, and is just as harmful). Who knows? Maybe an Equa bottle for Christmas will result in a PET bottle free New Year! Wouldn't it be great?
13. Wooden pen and pencil case
You know that colleague who always loses their pens? Buy them a wooden pen, and put it in a wooden pencil case, so it won't get lost. These are beautiful artisan products from biodegradable materials, and there's even refill available, so you can truly use it for a long time!
14. Bar soap
Another gift that everyone needs is a bar soap. Choose from our nourishing, 100% natural, palm oil free selection of soaps made with rich plant oils and butters. Make it easier for them to make the transition from wasteful liquid soap and shower gels! Alternatively, if you are experienced in the art of soap making, than you can create your own signature soap!
15. Scented bath salts
A nice jar filled with all-natural rock salt scented with essential oils is a great last minute gift.  Personalize it with the scent: for stressed out people, or if someone is struggling from insomnia, add lavender. For those who are in love with the winter holidays, make it christmasy with a special blend. For a refreshing bath, add peppermint a citrusy oils.
16. Bath bomb
Another idea for those who love to take a hot bath in the winter months: fizzy bath bombs, from scratch! The ingreidents are cheap, simple, and eco-friendly like baking soda, citric acid, salt and essential oils.
17. Wooden comb or hair brush with natural bristles
Natural bristles are great for the hair, as they spread naturally occurring oils on the whole length of the hair, so it won't build up on the head, and can nourish the ends too. This means less washes, and less hair products too! The bristles won't cause breakage, rather they massage the scalp and stimulate healthy blood flow.
18. Beard oil and brush
Recently more and more men are wearing a beard, which needs proper care. An all-natural beard oil is perfect for them, along with a brush. Fortunately you can easily blend it yourself! Mix 1 part castor oil with 3 parts almond oil, and add some essential oils like rosemary, bergamot, sandalwood or peppermint. A nice brush will help spread the oil and create a perfectly groomed look.
19. Old fashioned razors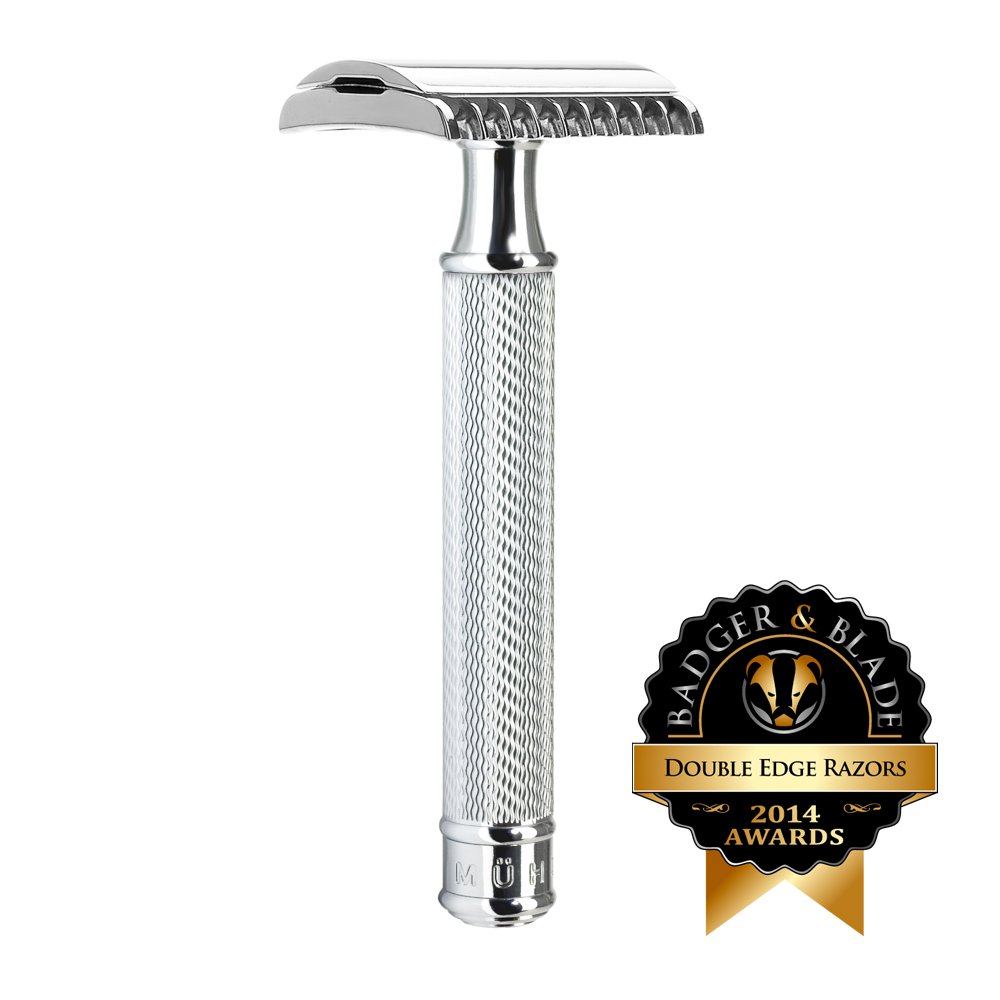 An old-fashioned razor is so durable, it can serve generations. It lowers the cost of shaving, and is gentler on the skin, it is no wonder that it is making a comeback for men and women alike. For a gift package, buy a shaving brush and shaving soap as well!
20. Clay mask
Take a jar, fill it with a clay that suits the skintype of your friend. For oily skin, it is enough to mix with water directly before applying, but for dry skin you can blend it with olive oil. Create a beautiful  label with instructions, and you are good to go!
21. Scrub
A gentle face scrub can be made with oatmeal, or you can use salt for a more intense peeling for feet. Mix with jojoba oil, and scent with essential oils.
22. Whipped body butter
Learn from Lauren Singer, the author of the blog Trash is for Tossers. Her favourite body butter is easy to make, yet it is a luxurious gift. Melt 1 part shea butter, 1 part cocoa butter, 1 part almond oil, 1 part coconut oil, and whip with a mixer until it resembles whipped cream. Scent with essential oils if you wish, but it smells wonderful from the cocoa butter and the coconut oil too.
23. Perfume
Create a 100% natural, personalized perfume for your friends! Take a mini roll on bottle, fill with alcohol or jojoba oil. The latter is better for sensitive, dry skin. Create an essential oil blend, that instantly makes you think of your friend! You can find inspiration for blends on the product page of the mini roll-on bottle.
24. Massage glove
Skip the plastic looffah and plastic bath sponge and use a 100% natural sisal glove made with plant fibers. It is biodegradable, and an effective peeling without microplastics polluting the ocean.
25. Redecker Soap sack
You can use soaps more efficiently with a soap sack! Collect little bits of soap remains in a sack, and use up even the smalles pieces!
26. Metal soap box
For zero waste travelers, swimmers, and those who regularly go to the gym and shower there, a metal soap box is an excellent gift!
27. Reusable face wipes
Removing makeup can use up a lot of wipes and cotton balls. Skip the waste, and use Emilla's reusable face wipes with adorable patterns!
28. Bea Johnson: Zero Waste Home
We wholeheartedly recommend Bea Johnson's book, The Zero Waste Home to those who want to start working on waste reduction in their life. Her method shows how a zero waste minimalist livestyle means more happiness, with less worry and unnecessary clutter.
WHAT ABOUT THE PACKAGING? DON'T WORRY WE GOT YOU COVERED!
1. For drinks…
Decorate a canvas bag for drinks! You can even add a note, to encourage giving it away for another gift, this way it can save even more paper bags! Who knows where it will end up? If you don't have time for decoration use the recycled denim Old Blue wine bottle holder!

2. The Sorting Bags
The little sacks of The Sorting Bags are designed to replace small bags while grocery shopping. But who says you can't use them for gift wrapping first? J
3. Canvas Bag
Personalize a canvas tote, that they can use for shopping later. If they really like it, it can motivate them to carry and never use disposable in the future!
4. Jars
For edibles and smaller gifts are great packaged in reusable jars. They can later be used for canning, organization, storage, bulk shopping and more.
5. The Japanese Art of Furoshiki
A scarf is all you need for wrapping! Search for the term "furoshiki" to find tutorials about the Japanese art of wrapping! Alternatively, you can also use cloth napkins and handkerchiefs for smaller gifts.